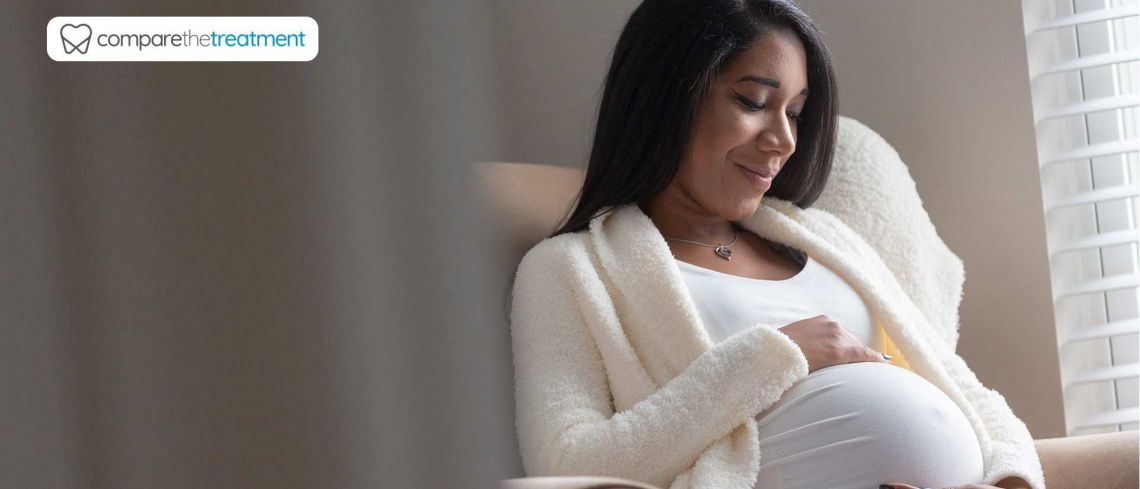 So you've decided to opt for a round of teeth whitening with a dentist – but you're also pregnant. Is it possible to undergo the treatment?
Being pregnant means you are advised to give up a lot of what you may do in your non-pregnant state.
While there isn't much research to suggest teeth whitening isn't safe when expecting, there also isn't a lot of studies to show it is safe either. Consequently an element of caution is advised.
What are the possible risks?
Tooth sensitivity – pregnancy causes an influx of hormones that can lead to a significant increase in sensitivity – including in the teeth. As a result, people who are pregnant have an increased risk of gum disease and sensitive teeth. Whitening products can make this worse – after all, it can lead to temporary teeth sensitivity even in those who aren't pregnant. This means teeth whitening could make the mouth extra uncomfortable
Tissue damage – as mentioned, gum disease – also known as gingivitis – is prevalent in pregnant women. This can cause severe inflammation of the gums. The levels of hydrogen peroxide in whitening products could lead to an increased risk of tissue damage
Impact on the child – no studies have been carried out on the effect of higher levels of hydrogen peroxide on unborn children. But as said before, best to delay your whitening in order to avoid any potential risks,
As a result, it is better to avoid professional whitening while pregnant – at least until more firm evidence over its safety has been established.
But that doesn't mean you can't take other steps to avoid discolouration.
For example, cut back on tea, coffee and curry, all of which will build up staining.
The same applies to fizzy drinks – as they are full of acids and colouring, they can be key culprits for staining.
As always, it's important to only undergo teeth whitening that is carried out by a registered dentist.
If you are pregnant – or have any other questions regarding treatment and your health – ask your dentist. They are best placed to provide you with the updated and relevant information.
Updated 26th January 2023