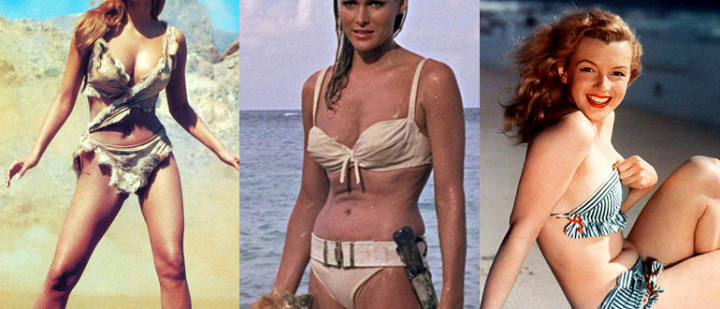 Classic beauties such as Raquel Welch, Ursula Andress and Marilyn Monroe have triumphed over 21st-century models Kate Upton and Kelly Brook in a poll of the 50 hottest ever bikini babes.
That's according to a new poll that puts a fur bikini-clad Raquel Welch, from the 50-year-old movie, One Million Years BC, top of the best bikini body list of all time.
And Ursula Andress, whose white bikini became iconic after she wore it in the first James Bond film, Dr No, took the second spot.
Third place went to sex symbol Marilyn Monroe, whose curvy figure has made her a pin-up ever since her 1940s heyday.
No 21st century models made the garde until Kelly Brook, who appeared at number four, closely followed by Michelle Keegan.
The study — conducted by Swimwear365, — was looking to discover if the nation's attitudes to bikini bodies have changed.
Swimwear365's spokesperson, who commissioned the poll of 2,000 women to celebrate National Bikini Day today (5 July) said: 'What we've found is that the iconic bikini bodies of yesteryear are as popular today as they ever were.
'No matter where you are in the world, whether on the beach abroad or at home in the UK, it's important to feel confident in yourself and what you're wearing — just like Raquel Welch or Marilyn Monroe.'
Beach babe Pamela Anderson, famed for hot-footing it across the beach wearing a revealing red swimsuit in Baywatch takes sixth place in the poll.
While French actress Brigitte Bardot takes seventh place, despite now being in her eighties. Holly Willoughby, Jennifer Lopez and Beyoncé Knowles complete the top 10 in the bikini hall of fame — with Nicole Scherzinger just missing out.
Six in 10 women say that they don't feel happy with their bikini bodies, and describe themselves as shy — preferring that people don't look at them on the beach.
Just two per cent of women describe themselves as bold in their approach to swimwear, and enjoy people admiring them when sunbathing.
The idea of a 'perfect' bikini body splits opinion — with 41% of respondents thinking it's achievable, and 43% believing no such thing exists.

That said, nearly half of the women Swimwear365 polled said they were happy with their body shape the way it is, although many admitted there was room for improvement.
The classic 'hour glass' figure was deemed the most desirable by women, which explains why hour-glass beauties like Marilyn Monroe rank so highly in the Bikini hall of fame. Most women, however, described themselves as having a 'pear shaped' figure.
Half of those polled are far less comfortable wearing a bikini in the UK than abroad, and a third say that they feel most relaxed in a bikini on the beach in a foreign country.
The biggest worry women have when picking a bikini is it not fitting well — closely followed by the unwanted stares of other beachgoers.
THE BIKINI HALL OF FAME TOP 50
1. Raquel Welch
2. Ursula Andress
3. Marilyn Monroe
4. Kelly Brook
5. Michelle Keegan
6. Pamela Anderson
7. Brigitte Bardot
8. Holly Willoughby
9. Jennifer Lopez
10. Beyoncé
11. Nicole Scherzinger
12. Sophia Loren
13. Myleene Klass
14. Rihanna
15. Dita Von Teese
16. Helen Mirren
17. Jessica Alba
18. Cheryl Cole
19. Kylie Minogue
20. Katy Perry
21. Rita Ora
22. Jayne Mansfield
23. Liz Hurley
24. Kate Middleton
25. Kate Upton
26. Sam Fox
27. Emilia Clarke
28. Melinda Messenger
29. Gisele
30. Vicky Pattison
31. Kim Kardashian
32. Gigi Hadid
33. Nigella Lawson
34. Emily Ratajkowski
35. Kylie Jenner
36. Twiggy
37. Amanda Holden
38. Caroline Flack
39. Naomi Campbell
40. Katie Price
41. Diana Rigg
42. Irina Shayk
43. Rochelle Humes
44. Helen Flanagan
45. Sam Faiers
46. Jean Shrimpton
47. Natalie Dormer
48. Lucy Pinder
49. Lily Aldridge
50. Jodie Marsh
View tummy tuck treatment & find a specialist >